Now You See Me
Theatrical Release:
May 31, 2013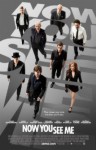 Synopsis
Now You See Me pits an elite FBI squad in a game of cat and mouse against The Four Horsemen, a super-team of the world's greatest illusionists. The Four Horsemen pull off a series of daring heists against corrupt business leaders during their performances, showering the stolen profits on their audiences while staying one step ahead of the law.
Dove Review
I found this film to be both action packed and exciting. Four magicians and con artists are brought together by a mysterious person who trains them and plots their actions to steal millions of dollars from corrupt companies and individuals with the goal of giving the money to those who have been hurt by those people. The plot is straightforward but there is enough mystery and suspense to keep the audience entertained.
Unfortunately, there is also a sub-plot about a mystical group called the "Eye" that doesn't seem to fit into the story well. This element is brought to a conclusion at the end of the film with little purpose or cohesion to the rest of the story. Strong language and sexually charged situations prevent us from awarding a Family Approved rating to an otherwise interesting story.
Info
Company:
Summit Entertainment
Writer:
Ed Solomon & Boaz Yakin