Alone Yet Not Alone (Book)
Theatrical Release:
February 7, 2012
Book Release:
February 7, 2012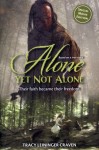 Synopsis
The Leininger family settled deep within America's new frontier, in the Blue Mountains of Pennsylvania. They were celebrating their blessings, their faith, and a bountiful harvest when their family was torn apart by the Penn's Creek Massacre. When Barbara and Regina are carried away and separated by Allegheny warriors, both sisters rely on their faith in God's truth, even in their darkest hour. Rich in historical details, Alone Yet Not Alone is an inspirational, true story of a family caught in the cross fire of the French and Indian War.
Dove Review
"Alone Yet Not Alone" is a quick-paced adventure, rich in faith and rooted in the history. Pages will fly as readers follow German immigrant Barbara Leininger through the Penn's Creek Massacre and into bondage at the hands of Allegheny warriors. Based on the true story of one of her forebears, Tracy Leininger Craven inspires readers to a stronger faith in spite of circumstances and shows that with God, we are never alone. Given that the subject matter is rooted in a particularly violent episode of the French and Indian War, parents should know that the violence in this book never goes beyond what is necessary to the plot, nor is it glorified. The author touches on themes of human slavery and war with finesse, never crossing that line that might give kids or teens nightmares.
"Alone Yet Not Alone" consistently shows Barbara's strong faith in God through prayers, hymns, and spiritual conversations without ever getting preachy. Readers won't be able to finish this book without understanding how the love of Christ can empower us to do the seemingly impossible.
This is a great book for anyone interested in Christian historical fiction!
Info
Company:
Enthuse Entertainment
Industry Rating:
Not Rated