Genesis 7: Episode 12 – Beyond the Interstellar Medium
DVD Release:
July 9, 2013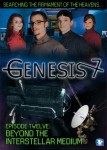 Synopsis
As their year-long mission nears an end, the Genesis 7 space crew reaches the edge of the solar system to cross the termination shock barrier on their way Beyond the Interstellar Medium. On the twelfth and final leg of their mission, the crew passes the desolate point at which the sun's energy intersects with that of other stars in the galaxy, prompting an inspiring discussion among Priscilla, Donton, and Enoch that evidence of God's creation has never been so clear.
As the month-long journey home begins, the crew envisions very different earthly pursuits. The descent takes them on a ride down memory lane as they bid adieu to the planets and recall the distinctions among them. Despite all the amazing things they have seen over the past year, Priscilla says that nothing can top Earth and the feeling of returning home.
Dove Review
The "Genesis 7" series is an adventurous journey into the Heaven that God created. This series combines education and faith into a journey that everyone will enjoy. As two young cadets join their uncle on a space travel of the solar system, they relate a connection of their faith and God's word to each adventure they embark on.
In the 12th Episode of the Genesis 7 series, we find the team on the outer edge of our solar system and after a year they get to return home. Enoch, Donton, and Priscilla are looking forward to returning to Earth. Each one talks about his/her discoveries that they have found on this adventure and the wonderful sights they have seen that God has created in the heavens, especially the gifts that He has given here on earth. They also discuss what they are looking forward to doing once they reach Earth. As this portion of the series comes to an end, we are reminded of the wonders that God has given us here on earth and the precious gift of forgiveness. This is a charming series and we are proud to award the Dove "Family-Approved" Seal for all ages to this DVD.
Info
Company:
Bridgestone Multimedia Group