The Love Dare For Parents (Inspirational)
Theatrical Release:
July 3, 2013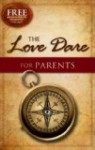 Synopsis
Building on some of the same insights that continue to restore and reignite marriages worldwide through "The Love Dare" (5 million copies in print) this companion volume takes you on an all-new 40-day journey, inviting your whole family into the experience.
"Children are a gift from the Lord" (Psalm 127:3).
Dove Review
The Kendrick Brothers have done it again! The filmmakers of "Fly Wheel", "Facing the Giants", "Fireproof" and "Courageous", as well as the authors of the marriage book, "The Love Dare" have now, due to popular demand as they mention in the book, written this book for parents, to encourage them to love their kids and bring out the best possible traits and virtues in them.
There are forty devotions and challenges, with such titles as "Day 2: Love is Patient" or "Day 40: Love Leaves a Legacy". Each devotion features a dare of course; as an example for day two, the day to be patient, it is suggested the parent write "Love is Patient" on an index card and tape it to the refrigerator or a mirror and remember to be patient with one's children during the day. Or, in using our previous day forty example, which is on leaving a legacy, the suggestion is for parents to write out a legacy letter to their children, to share a statement of faith and to express their love and hopes for them.
The book is written in a conversational style and you may well feel as if you are sitting down with Stephen and Alex Kendrick, drinking a cup of coffee, and gleaning from them as they share strategies and ideas and practical ways to apply God's word to daily situations parents face. They focus on paying attention to the details, not missing important moments and leaving a lasting influence. For example, on page 198 they mention that bodies will age, clothes will become dated, your previous place of employment will miss you for a while and then move on to fresh faces, and occasionally someone will remember you. But your Biblical influence on your children will be a lasting impression that will stay with them throughout their lives, even when the parents have passed on.
These two hundred and twenty five pages are written with a wholesome and caring attitude which comes from two men that have been successful ministers, filmmakers, and parents themselves. They base their entire teaching on God's word and are always about keeping a balance between doing the right thing, parenting with mercy and making sure a son/daughter knows they are truly loved. They use the example on page seven of Ephesians 4:26 – "Be angry, and yet do not sin." They write that loving patience must be demonstrated before discipline and correction. The authors use a terrific example of David comparing peace to resting by a mother's side (Psalm 131:2). Also, how it is important to pick up on small things. If our child talks about something that happened at school that day, sometimes a simple, "It sounds like you have been going through a lot" can help them open up to talk about it.
In summation, the Day 18 Devotion is titled, "Love Models the Way" and that is really what the two authors do. They share a model, giving examples from God's word and suggestions to use these examples in practical ways. Page 122 reminds parents that love keeps no record of wrongs. The book is really about what they call "parental shepherding" and it gives ideas for parents even into a child's love life and marriage and then lasting influences which result from a lifetime of sharing insights and listening. This book is well written and yet easy to read. It obviously is wholesome in its text and presentation but is intended for parents so we are happy to award it our Dove "Family-Approved" Seal for ages twelve plus. Stephen and Alex, you have written a wonderful guide for dealing with today's parenting issues.