Blaise Brooks Clean Comedy on Dirty Sunset
DVD Release:
October 1, 2013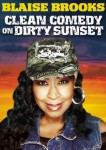 Synopsis
A reporter is sent out by his church "The Underground" in search of a true believer. The reporter walks Sunset Blvd. with a cameraman and a microphone on a mission to find someone who fits the description that the pastor of the church has specified. The reporter comes across 4 characters that peak his interest. The 4 characters all have a different story, and are not what they appear to be at first glance. The characters send the reporter on a roller coaster ride of interviews. All of the characters are by far the most hilarious characters that have been created in the last 10 years. The film also highlights the stand-up comedy of Blaise Brooks, one of the funniest female comediennes in the business. The vignettes are centered on the stand-up comedy of Blaise Brooks, which has left audiences riveted. Audiences will leave "Clean Comedy on Dirty Sunset" with a smile on their faces, and a stomach ache from laughing. Blaise's stand-up comedy and the characters that are portrayed in the vignettes are memorable, and all races, religions, and nationalities will be able to relate to the film . Blaise's performances will be remembered and imitated for years to come.
Dove Review
Blaise Brooks has a comedic style all of her own as she pokes fun of all stereotypes of people in and around her life. From her pastor to the fellow parishioners, her boss to coworkers, and her grandmothers to other family members, there is no one that is safe from the fun teasing. She also portrays some colorful characters in her skits in the search for believers that will have you in stitches. Who could forget her catch phrase "That's silly" and that will make you laugh harder.
Blaise does a great job in presenting clean jokes and comedy that will entertain the entire family. We award "Blaise Brooks Clean Comedy on Dirty Sunset" the Dove "Family-Approved" Seal for all ages.
Info
Industry Rating:
Not Rated