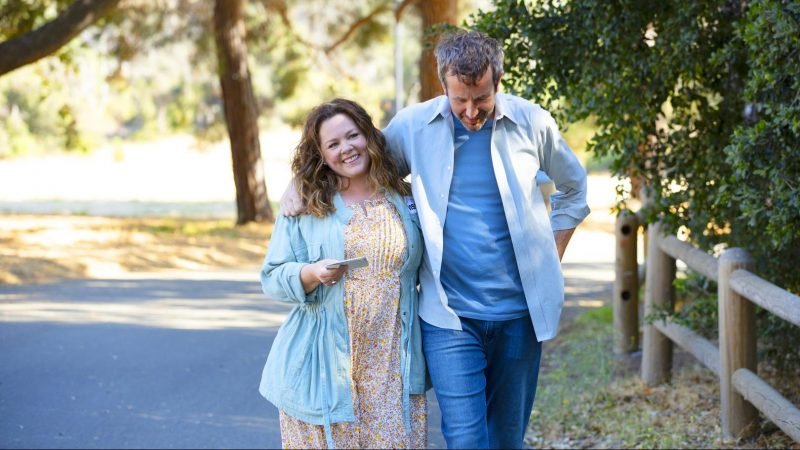 By Jacob Sahms
Lilly and Jack Maynard (Melissa McCarthy and Chris O'Dowd) live a happy, hopeful, joke-filled life, blessed by the arrival of their infant daughter. But when tragedy strikes, the couple is torn apart. Jack enters a mental health facility and Lilly is left to run the household, including the overgrown garden that a starling has adopted territorially as its own. While Jack wrestles with the pain internally, Lilly wrestles more externally — sometimes, with comic results, in The Starling.
Netflix's "Melissa McCarthy movie" is not like anything else we've seen from her before. Yes, Theodore Melfi directed the Bill Murray-headlined St. Vincent that played more on the comic/seriousness of McCarthy, but this is … different. Here, there are funny moments, both visually, Lilly's grocery store job certainly provides levity, and verbally, the relationship between Lilly and her veterinarian-turned-therapist Larry Fine (Kevin Kline) does that. The CGI starling does have its moments, too, but the film doesn't actually settle for simple comic territory.
While McCarthy's Lilly battles the starling with a football helmet, an artificial owl, and more, O'Dowd's quiet husband seeks to figure out how to move forward out of his depression and despair. It's a quiet exploration of the way that grief brings so many quiet struggles to the surface and lays them bare, and shows that even with help, it's not easy to recover or find normalcy. Jack has his own struggle, and just because he's not present for the Battle for the Garden, doesn't mean that his side of exploring grief and loss is any less acute.
McCarthy shines here. She's very funny, but the depth she shows in The Starling out distances itself from anything that she's done before. Maybe it's because audiences have already seen her funny side that it humanizes her here to see what she's wrestling through with Fine. Kline is understated himself, and the idea that someone could more easily talk about life's struggles with a shrink-turned-vet-turned-shrink is endearing.
Sometimes, it's easier to fight the external than the internal, but in the end, every struggle must be faced not ignored, or it only festers. Still, it's better to fight together, reminding ourselves and each other that we're not alone, and that what we face can be overcome. Day by day, step by step, one element of the garden at a time.
That garden imagery – the reclamation of the land from the overgrown wild it's become to be something bountiful and good– is Biblical, and beautiful. Just like the starling – and Lilly.