By Suzy Sammons
We need this movie today.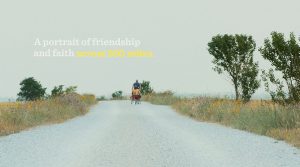 I'll Push You is an artistic and holy adventure, like a work of art that will speak to each of us in a unique way. It's a film that's not too heavy, but it goes in deep. Patrick and Justin, two best friends. One with very little physical ability and one with boundless capacity for giving, embark on a journey that will require Herculean strength from them both. We are invited along on El Camino de Santiago – a centuries old pilgrimage across Spain, and we become part of a beautifully woven documentary of love. With strokes of majesty, pain, devotion and life-saving community, Directors Chris Karcher and Terry Parish deliver an elegant story that will likely stir each of us individually in our own way, from our wrestle with pride to our entire relationship with the world around us. This is a magnificent story of that reminds us of how beautiful this life is meant to be.
Don't miss your chance to see I'll Push You on Nov. 2.  Click here to find a screening.
See the trailer and read the full Dove review here.