by Edwin L. Carpenter, Senior Film Reviewer – The Dove Foundation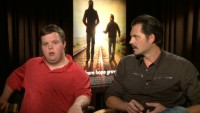 Where Hope Grows is a faith-based film opening May 15, and it features strong directing from Writer/Director Chris Dowling, as well as a powerful performance from David DeSanctis, who plays a character with Down Syndrome named "Produce", because he works in the produce section of the local market. DeSanctis has Down Syndrome in real life but doesn't let that stop him from acting, or doing other things he wants to do.
Dove: What is the movie about?
Chris: "The movie's about a professional athlete that is out of time, has kind of fallen back on his luck—he of goes through a journey of rediscovering child-like faith and that child-like faith is found through the eyes of a friendship with an individual who has Down Syndrome.
Dove: David, is this your first time acting in a movie?
David: "Yes, it is–my very first feature film-movie that I've ever acted in. And I've done a stage production in high school, did broadcasting in class in high school, and back in elementary school, and that's where I first dreamt about acting and I've always wanted to act."
Dove: That's great. What did you think about seeing yourself on the big screen for the first time?
David: "Well, down in Dallas, Texas at the Dallas International Film Festival, that's where the movie was shown first–down there. It was weird, extremely weird. But after (seeing it) about 16 times I've been really comfortable with myself, seeing myself on screen."
Chris: "You know David in this is like, when you actually watch the movie, the character of Produce, most people automatically say, 'Well, that's just David.' That's not David. David is truly acting in the movie. I mean, David's a twenty-two-year-old dude. David, he's a tough guy. He's a white belt in Tae Kwon Do, right? (David replies in the affirmative). And the character of Produce is not. The character of Produce is quite different. But he is definitely a little more shy than David. 99% of the human population is more shy than David! This guy's got the biggest personality in the world."
Dove: What is the theme of the movie?
David: "There are different themes throughout the movie. I think the biggest theme of the movie is based off baseball and the grocery store. There are minor themes but the biggest theme is based off the grocery store and baseball."
Chris: "We do have a lot of themes in it and the cool thing is we do present them in a very organic style. There's a single father not connecting with his 16-year-old daughter. He's an island, battling with old addictions and failures. There's a special need contingent and part of my passion is to shatter stereotypes of the special needs community. It's about a man trying to find his faith again. There are different people connecting to different parts and it's very powerful."
Dove: What were the challenges in making this film?
Chris: "We didn't have a large budget. The locations we got, the crew, the cast, everyone really came together. "
Chris added he didn't really know how David would do but that "he was awesome."
David: "The weather." He mentioned that Chris, as director, had to deal with weather conditions in California and Louisville, Kentucky. "The challenge for me was my patience. I had to wait a lot. I had to discipline myself to go through multiple and many, many scenes, over and over again."
Dove: What lessons did you learn from making the film?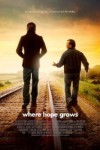 David: "To always listen with a lot going on around me and to be content with my surroundings."
Chris: "My biggest lesson was not to put too many limitations on David. I was wrong. He was far more impressive than I would have predicted. My journey in this was a lot like Cal in the movie. He meets this guy and learns, he's a pretty cool dude!" Chris added he got to hang out with David and shoot some baskets, an enjoyable experience.
Dove: What do you want people to take away from this film?
David: "I just want people to use their faith, to believe."
Chris: "For me, it's important, as I know it's intended for a Christian market, that it's inclusive and not exclusive, and that a secular audience sees it." He added he is proud of how they portrayed special needs people and someone like David's character, a character with Down Syndrome. "If you want to see good films that deal with faith, please support it and come see our film May 15 and bring your friends."
David: "Just bring billions and billions and billions and billions and billions and billions and billions and billions of friends!" (Everyone chuckles.)
This film, Where Hope Grows, has earned our Faith Friendly Seal and five Doves, our best rating.
Read Dove's Review of "Where Hope Grows"