Touched by Grace
DVD Release:
July 8, 2014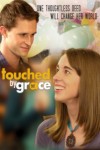 Synopsis
Cara Jarvis longs to be a part of the in-crowd at her new high school. In an effort to impress town hottie Brandon, she befriends Grace, a girl with Down Syndrome, a friendship she tries to hide when she meets popular girls Skylar and Quinn. When Skylar loses her bid to be on the Homecoming Court, she sets it up for Grace to win Homecoming Queen … as the Senior Prank. Grace wins, is publicly humiliated, and Skylar rigs it so that Cara takes the blame. Cara must win back Brandon, restore her friendship with Grace, and save her reputation at her school.
Dove Review
This movie is a shining example of judging what is on the inside of a person and not the outside. It is a story about Down Syndrome and how some of the unfortunate patients of this condition are treated.
Grace was born with a bad heart and suffers from Down Syndrome. When a prank is pulled on her at the Homecoming it causes a lot of grief and several people question the way they acted and treated Grace.
This is a touching movie and we are awarding it our Dove Seal for ages twelve plus. It features the theme of forgiveness. This is a powerful story.
Content Description
Language:
"Fat Pig" seen on a banner which is intended for someone to see; H (as a place)-1; Dummy-2; Special Education students referred to as "those people"; Loser-1; Nerd-1; Jerk-1; Idiot-2; Retard-2
Info
Company:
StoneTable Films
Writer:
Chris and Katherine Craddock
Starring:
Ben Davies
,
Stacey Bradshaw
,
Amber House
,
John Franklin Stephens
,
Sara Cicilian
,
Kera O'Byron
,
Blakely Bunnell
,
Suzanne Neff
,
Carys Meyer
,
Patrick Hussion
,
Josh Murray
Reviewer:
Edwin L. Carpenter