Austentatious
DVD Release:
September 1, 2015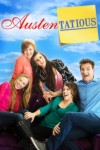 Synopsis
Four of Jane Austen's beloved heroines (from "Pride & Prejudice," "Emma," and "Sense and Sensibility") are friends in modern times, and find that their friendship helps them in their interconnected lives and struggles with love, family and work.
Dove Review
Lizzie, Emma, Elinor and Marianne, Elinore's sister, are great friends who confide in each other about many topics. They each have different jobs: Emma is a divorce lawyer, Lizzie is a real estate agent, Elinor is a tax accountant, and Marianne works at whatever she finds. Together they try to help each other solve the problems in their lives.
There are 10 episodes on this DVD deal with family, work and dating issues, and friendship. Grant is around to give the ladies advice on men and dating, but who also cares for Emma. Darcy is looking for a new house with Lizzie's help, but also works at the same firm as Emma, plus there are sisters Elinor and Marianne who share an apartment and have normal sibling disagreements. This is an interesting look at friendship and how the friends' lives intertwine throughout many situations. Episodes deal with compromise between sisters and family, demonstrate how sometimes matchmaking is not the best thing between friends, how important friendships are, and helping friends out. "Austentatious" contains comical moments and looks at lives among friends, and we award it the Dove "Family-Approved" Seal for all ages. A fun modern twist on Jane Austen's classics! A must for everyone!
Info
Company:
SunWorld Pictures