John Wayne: Guns Along the Trail (In Color)
DVD Release:
November 13, 2007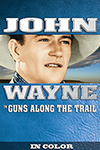 Synopsis
John Wayne is back, doing what he does best: slingin' guns and throwin' fists in this action-packed tale of intrigue in the Wild West. John Wyatt (Wayne) is a government agent who must go undercover in a traveling medicine show to infiltrate a dangerous gang of counterfeiters. "Guns Along the Trail" has been beautifully restored and is in color for the very first time.
Dove Review
"Guns Along the Trail" is a fast-paced, rip-roaring western! John Wayne plays John Wyatt, who winds up traveling with a medicine show (undercover) so he can nail a gang of counterfeiters. The head of the medicine show is a man named Carter, and John and Carter's daughter, Linda, hit it off. John helps the medicine show members, including Ike and Mike, out of a few jams. Eventually he has to deal with the murderous Curly Joe, the man behind the counterfeiting ring.
This action-packed adventure features chasing bad guys on horses, a few fights, and enough action to satisfy any western or action lover. We are happy to award "Guns Along the Trail" our Dove "Family-Approved" Seal for ages twelve plus. Join the Duke for this exciting adventure!
Content Description
Drugs:
A few drinking scenes including comments about drinking; saloon scenes; man is obviously drunk; smoking scenes including a pipe, cigarette, and cigars.
Info
Reviewer:
Edwin L. Carpenter