Christmas on the Coast
Theatrical Release:
December 1, 2017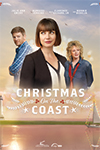 Synopsis
Tough and cynical New York celebrity novelist Dru Cassadine, known for her romance stories, is desperate for a breakthrough after a string of flops. Spurred on by brutal reviews and a not-so-subtle threat by her publisher to drop her, she is given just weeks to turn out a best seller. To get her creative juices flowing, Dru decides on a change of scenery. Reluctantly, she returns to her childhood home for the holidays. Landing in Harbor Pointe, a small picturesque beach town, a flood of memories washes over her. As the town prepares for Christmas and she struggles with her past, handsome local widower Brysen Flynn and his spunky teenage daughter Peyton enter her life. Dru's tough New York heart melts as she befriends Peyton, and romance begins to spark with Brysen on the Southern shore…with an unexpected twist no one saw coming.
Dove Review
Christmas on the Coast is a beachy holiday romance you won't regret indulging in.
Art imitates life as best-selling writer Dru Cassadine (Julie Ann Emery) publishes novel after novel about Annaline, a young woman who is too afraid to truly love. To keep herself and her famous character out of harm's way, Dru avoids romance, vulnerability, or anything else that may be uncomfortable. She lives an isolated, snobbish, controlled life and is very much closed off to everyone – especially her own family and friends back home in Harbor Point, South Carolina. Stale, stuck, and dull, Dru writes about a life of adventure and living life to the fullest, but she isn't truly living. When Dru's book sales decline, and it becomes clear that her predictable stories won't cut it anymore, her agent encourages her to return home for some inspiration. Perspective is a tricky thing, which this film addresses quite nicely. Dru thinks everyone back home is small-minded and misunderstands her. She takes on a personal challenge to change everyone through her writing, though it's clear that it is Dru who needs a change. At first, she is contemptuous and uptight, but with a budding romance and obligatory dramatic conflict, she begins to come to terms with her own fears and in the process finally cranks out a story worth reading. Although
Christmas on the Coast
has a lot of familiar plot-points (blocked writer, reluctant to return home, finds love on the beach), it still manages to become a refreshing and unconventional holiday film for a Christmas romance. The beach backdrop of St. Simons Island, Georgia, is a beautiful change of pace for a holiday film and lends itself nicely to creating the overall feel of the movie. The characters (although somewhat undeveloped) are easy to watch and easy to relate to. Brysen (Burgess Jenkins) and Dru's relationship is believable and authentic; it never feels rushed or overly cheesy. Unlike most made-for-television romances, which create elaborate, unbelievable, sometimes inappropriate relationships with no consequences, their relationship is cute and thoughtful. This film is simple and sweet, and that's exactly why it is so enjoyable.
Christmas on the Coast
is a delightfully easy, unconventional but wholesome Christmas romance with a solid story—all you need to add is the hot cocoa. (Don't forget the marshmallows!) We are pleased to award
Christmas on the Coast
the Dove Seal of Approval for All Ages.