A Quiet Place
Theatrical Release:
April 6, 2018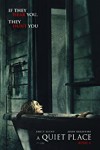 Dove Review
The quiet place is geographically double-edged. It is the minimalist, survivalist home of Evelyn (Emily Blunt) and Lee (John Krasinski), as well as their children Regan (Millicent Simmons) and Marcus (Noah Jupe). There they sustain as close to a normal life together, but must do so silently as to not rupture the mysterious something that lurks in the night.
The quiet place is also the embodiment of the United States; that is, the United States portrayed in the film. It is torn apart, ravaged, and sound and voice are treated as detrimental to human life. "Silence is survival," or so the tagline of the film goes. It is a place we are made to believe that the voiceless will lead a steady life if it is kept in such a manner.
The brilliance of A Quiet Place is how it works so well on such a macro and micro level. It is a thriller—yes, deeply thrilling, using wisely every of its 90-minute runtime—and it is thoughtful meditation. It shows fragments of kindness when darkness more often falls, and it promotes sound and the strength to fight back where hopelessness seems to reside.
Krasinski, who also directed and co-wrote the film, is given the daunting task of telling a story that is at once breathlessly frightening and socially conscious and profound—and with little dialogue to add on to the trickiness. He pulls it off, as storyteller and actor, in inviting little voices to stand up to the oppressed, the darknesses of the night. Blunt, Krasinski's wife, is also incredible at embodying maternal love and care for their family. Essentially, the film works as a silent film so well that the audience cannot help but be swept up in the film's social activism.
All of this said, the film contains many terrifying and startling sequences. It is a film of brilliance and craft that is intended for a mature audience, and therefore Dove cannot award the film with approval. That being said, for mature audiences, A Quiet Place is sure to open great conversation and a thrilling time out.
Content Description
Integrity:
Characters are gradually encouraged to challenge their fears and speak up; characters act as a family unit for the greater good
Violence:
Frightening violent sequences, including creatures harm to characters and animals, a foot being impaled by a nail, shootings, menace, and main character deaths; often perilous toward children