Sincerely, Yours, Truly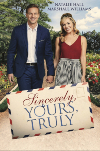 Synopsis
Hayley stumbles upon a bundle of letters with an engagement ring from a mysterious sender and decides to respond to the writer with her own alias, and with it starts anonymous correspondence that will change her life forever.
Dove Review
**This review is contributed by Super Channel—a channel dedicated to providing integrity and accountability in today's entertainment.
Hayley (Natalie Hall) is the head of Growing Up, a non-profit that takes city kids out to experience farms, plant gardens, and enjoy the fresh air. When Growing Up is a contender for a $250K grant, she and her partner, Elisa (Nicki Whitely) are ecstatic! Elisa has just moved into a new apartment, and while going through a closet, discovers a box of tastefully-written, passionate romantic love letters.
Grant money executive announces they both have until Friday to put together and submit their individual proposals at which point they will meet again and decide on the winner.
As Hayley and Elisa read the letters together, they are unravelling a love story that appears to be one-sided as the gentleman proclaims his undying love for his sweetheart. It is so genuine and caring and sweeps both women off their feet. When they find an engagement ring in the very bottom last letter, Hayley decides to respond to the writer using an alias of her own: Granola Fairy.
Josh is astounded and shocked when he receives the letter from Granola Fairy and old wounds resurface as he recalls Marisol disappearing and breaking his heart in the process. His friend encourages him to respond and possibly get his grandmother's ring back…if there is any truth to the story. Hayley is delighted when she gets a response from The Techie Poet. Elisa is on her own mission and sends a text to The Techie Poet asking if he could be the one looking for his grandmother's ring…which, to Josh's astonishment, arrives by courier shortly thereafter.
As Hayley and Josh continue to text, they are getting to know each other through beautiful thoughtful words, not knowing they are in the same office space a few feet apart. Through their numerous kind texts, they are falling for each other and old wounds are beginning to heal.
But when Marisol suddenly appears on the scene and rekindles Josh's pain, will he be strong enough to move on? How will Hayley react when she finds out Josh is the author of the love letters and how will Josh respond to someone who's been "playing" with his heart?
This movie is Dove-approved for All Ages.
The Dove Take:
This beautifully written script takes the viewer on a pleasant journey and proves that competition does not have to be unkind and vicious, and by being helpful and caring, the reward is true love and trusted friendship.
Info
Company:
Reel One Entertainment