Breakfast Of Champions
Theatrical Release:
September 17, 1999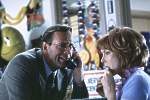 Synopsis
Dwayne Hoover (Bruce Willis), the most respected businessman in Midland City, is on the verge of a nervous breakdown – yet his identity as the leader of the town's financial empire continues to flourish as he slowly descends from semi-sanity into madness. At the same time, Kilgore Trout (Albert Finney), an impoverished writer near madness himself, is making a cross-country odyssey to be the guest of honor at Midland City's first fine arts festival.
In search of answers in his crumbling world and in desperation to hear a new voice, Dwayne Hoover attends the festival, thinking Kilgore Trout will have the reason for his existence. When Hoover and Trout finally meet their two worlds collide, setting forth a ripple of events that will alter both men's lives.
Content Description
The profanity consists of the irreverent use of Jesus' name several times; there is much obscenity; a graphic sexual scene, but no nudity; Nolte plays a cross-dressing car salesman, also losing his mind; adultery; the violence consists of a fight in a bar; the characters all seem like escapees from a David Lynch TWIN PEAKS episode.
Info
Company:
Buena Vista Home Video