Stigmata
Theatrical Release:
September 17, 1999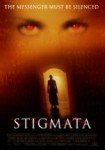 Synopsis
After receiving a rosary that was stolen from the corpse of a mysterious priest, a non-religious hairdresser begins having hallucinations. Along with unnerving dreams, demonic forces begin tossing her around the room and she begins exhibiting signs of the stigmata (wounds replicating the injuries inflicted on a crucified Christ).
Content Description
Profanity and obscenity; violent images, including nails being pounded into flesh and a crown of thorns pressed onto a forehead; the lead smokes, drinks and ridicules religion; demonic forces such as in the Exorcist do all kinds of dastardly things; some sexuality; subject material may offend Believers.
Info
Writer:
Tom Lazarus and Rick Ramage
Producer:
Frank Mancuso, Jr.