Toy Story 2
Theatrical Release:
November 19, 1999
DVD Release:
November 19, 1999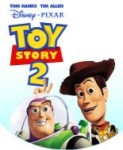 Synopsis
Buzz Lightyear and Andy's other toys spring into action when a thieving toy collector steals Woody in order to sell him to a museum in Japan. But a conflict arises when Woody discovers that he is a highly valued collectible from a 1950's TV show called "Woody's Roundup," and he meets the other prized toys from that show – Jessie the cowgirl, Bullseye the horse and Stinky Pete the Prospector. Their value is reduced if Woody is not a part of the collection. If he doesn't go with his newfound friends, they will be shoved back into storage, perhaps forever.
There's plenty of excitement and fun as the toys get into one predicament after another in their daring race to get to their pal before he's shipped overseas.
Dove Review
Jam-packed with excitement, humor, and lots of heart, "Toy Story 2" is even more entertaining than its predecessor. This is Disney at its best, with lessons about friendship and making choices, without ever seeming preachy. Taking the art of computer animation to the next plateau, the film utilizes state-of-the-art technology, while the inventive writers give the story layers and nuance. Toy Story 2 is simply MORE FUN THAN A TOY STORE!
Content Description
Contains some violent and suspenseful imagery during the opening sequence and Woody has a scary dream. The material is handled with responsibility, but a guardian should attend with very little ones to reassure.
Info
Producer:
Helene Plotkin and Karen Jackson
Reviewer:
Phil Boatwright