The Life and Times of Hank Greenberg
Theatrical Release:
May 19, 2000
DVD Release:
October 16, 2001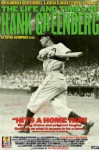 Synopsis
This is a PBS-style documentary of the legendary baseball player who transcended ethnic and religious prejudice to become an American icon. Hank Greenberg's achievements during the "Golden Age of Baseball" in the 1930s and '40s rivaled those of Babe Ruth and Lou Gehrig. As America's first Jewish baseball star, he also helped break down the barriers of discrimination in American sports and society. Greenberg was a beacon of hope to millions of American Jews who faced bigotry during the Depression and World War II.
Included are interviews with family members, sports figures, Hollywood celebrities, and devout fans. Also featured are famous scenes from Hollywood classic movies as well as dramatic historical footage.
Dove Review
In 1934, "Hammerin' Hank" chose not to play on Yom Kippur, even though his team, the Detroit Tigers, had a chance to win the pennant. Believing a man of celebrity had a responsibility to those who followed him, and should set an example to children, he went to synagogue on the most sacred of all Jewish holidays instead of the stadium. Now there was a man of character! Sadly, though, the filmmakers and family members tell us that while Mr. Greenberg was devoted to his heritage, he was not a religious man. How tragic that such a hero was not a man of faith, but only one who upheld traditions. It must be similar to those who celebrate Christmas with decorations and presents, yet never truly understand the sacrifice the Son of God made on their behalf.
After returning from the war, Mr. Greenberg had dismissed religion as something that separates people; he was right. Religious domination orchestrated by men does separate people. But that is just one more piece of evidence of the need for Jesus in people's lives. Although much has been done wrong in the name of Christ, those deeds are never committed in response to His example. Disciples who take up His cross attempt to follow his teachings, "Love the Lord your God with all your heart." This is the first and greatest commandment. And the second is like it: "Love your neighbor as yourself." All the Law and the Prophets hang on these two commandments. Not only did Christ Jesus preach that, but then He willingly gave His life so that all men could understand it.
Info
Company:
Cowboy Booking International
Industry Rating:
Not Rated
Reviewer:
Phil Boatwright