Small Time Crooks
Theatrical Release:
May 19, 2000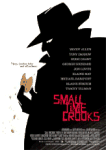 Synopsis
Woody Allen wrote, directed and stars in this romantic comedy that follows the misadventures of an ex-con dishwasher and his manicurist wife. Their get-rich-quick scheme to rob a bank leaves them rolling in dough…but not the kind they had in mind. While Woody and his gang blunderingly attempt to dig a tunnel to a bank, his wife's cover, a cookie shop, takes off. Soon they are wealthy beyond their wildest dreams. But can these two blue-collar types move into high society?
Dove Review
A very funny homage to Ralph Kramden and "The Honeymooners," I laughed my head off. His blustery failure is much like Jackie Gleason's loveable loser, who is always looking for a get-rich-quick scheme. Woody always attempts to write a layered story, combining slapstick with pithy humor. There is even a moral to this story: wealth doesn't bring happiness. And although the leads have been crooked, they do not profit by dishonest deeds, but by honest labor. Alas, Woody Allen has a vocal mannerism present in nearly every film he ever made, the redundant use of Jesus' name to express exasperation. Due to this misuse of the Savior's name, we cannot recommend "Small Time Crooks" as family entertainment.
Content Description
Language: Jesus 7, God or oh God 4, ass 2, expletives 4 – Drinking: some of the characters drink on occasion, but no drunkenness.
Info
Producer:
Woody Allen and Jean Doumanian
Reviewer:
Phil Boatwright