Harlan County War
Network Premier:
May 4, 2000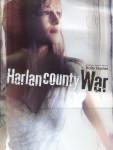 Synopsis
A courageous coal miner's wife overcomes politics, poverty and violence in spearheading an intense year-long labor strike. The film, a fictional story set against the historical background of the Harlan County coal strike that took place in the 1970s, premieres Sunday, 5/4/00 at 8:00 PM (ET/PT) on Showtime.
Set in the mid-1970s, the TV-movie centers on Ruby Kincaid (Holly Hunter) who, despite the concerns of her husband, Silas (Ted Levine), forms a picket line with other wives to bolster efforts to close the mine and force labor contract negotiations. Assisted by union organizer Warren Jakopovich (Stellan Skarsgard), Ruby confronts corrupt political influences and refuses to surrender in the tense, increasingly dangerous battle of wills.
Dove Review
This is a very powerful film that explores the inequity of the coal mining industry, with major profits being taken by the owners, while the workmen live in squalor and life- threatening conditions. Affecting performance by all. Alas, the language, its one sexual situation, and the violent images keep us from recommending it for family viewing.
Content Description
GD 8, F-word 3, S-word 1, SOB 4, ass 2, bitch 1, expletives 8 – Sex: married couple make love, with partial female nudity - Smoking: the leads smoke – Drinking: 3 times, "white lightning" – Drunk: 2 characters get drunk once – Violence: threat of violence; a man is hit with a club; women beat "scabs" with baseball bats; the lead family is shot at while at home in bed; a man is shot at close range; some explosions.
Info
Company:
Showtime Networks, Inc.
Reviewer:
Phil Boatwright