Out of Time
Theatrical Release:
June 18, 2000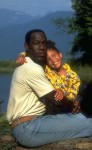 Synopsis
This Showtime original picture for all ages premieres 6/18/00 at 8:00 PM, ET. Mel Harris and James McDaniel star in this modern retelling of the Rip Van Winkle fairy tale. In 1980, rural Oregon native Jack Epson is a nature-loving dreamer suffering from untreatable leukemia. A walk in the woods leads to a magical spring and when Jack drinks from it, he falls asleep for 20 years. When he wakes up in the modern day, everything has changed – his wife has a new man in her life, his daughter is grown with a child of her own, and urban development is encroaching on the wildlife that Jack loves so much. With the help of two spirit guides who protect the town and local forest, Jack takes on the developers, while trying to get his old life back – and benefiting from the advances in medicine that may be able to cure his cancer.
Dove Review
No one sets out to make a bad movie or give an uncommitted performance. But there is an element of magic that brings together all the technical and artistic endeavors associated with a film production. Alas, the magic wasn't present on this location. The humor is lame, there's no wonderment, little emotion and even less credibility. And it would be difficult to decide which character displays the least amount of enthusiasm: the lead actress, the stoic Indian ghost, or the background extras.
The element of fantasy of having a man awaken twenty years later is interesting. Having his grandson become invisible for no apparent reason, other than to further the espionage sequence when he sneaks into a crooked politician's office, is merely ludicrous. As for the so-called spirit guides – it would have been a nice thought had the writer opted to give them personality, just any personality. They look and act like they're the ones in a deep sleep. There is no objectionable content. Because of that, we can approve it. However, I'd be very surprised if it weren't a snoozer for kid and kin.
Info
Company:
Showtime Networks, Inc.
Reviewer:
Phil Boatwright