One Kill
Network Premier:
August 6, 2000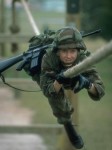 Synopsis
"One Kill" premieres on Showtime, Sunday, 8/6/00 at 8PM (ET/PT). Captain Mary Jane O'Malley (Anne Heche) is a single mother of two and a decorated marine officer faced with the greatest battle of her life when she is awakened at knifepoint by an intruder. She wrestles free and kills her attacker. The local court rules the incident justifiable homicide, but when the perpetrator turns out to be a decorated Major and war hero, the military court decides to call it "Premeditated Murder."
As O'Malley's court martial hearing begins, she is assigned defense attorney Captain Walker Randall (Eric Stoltz). Randall must now guide O'Malley through a military maze to keep her freedom and career.
Dove Review
A solid script and good performances highlight this fact-based story of a woman standing against injustice without sacrificing her principles. Unfortunately, due to the subject matter and occasional objectionable language, we are unable to recommend it for family viewing.
Content Description
Language: Christ 1, F-word 1, S-word 1, ass 4, screwed 2, expletives 4 – Sex: 2 kissing scenes, one turning into a sexual situation where the couple wind up in bed; Smoking: 1 – Drinking: 2 – Drunkenness: 1 – Violence: pictures of a bloodied dead body; we see a man shot at close range; he dies after being shot again
Info
Company:
Showtime Networks, Inc.
Reviewer:
Phil Boatwright