Princess of Thieves
Network Premier:
March 11, 2001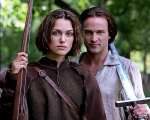 Synopsis
Spirited 18-year-old Gwyn (Keira Knightley) has inherited the beauty of her late mother, Marion, and the cunning bravery of her famous father, Sir Robin of Loxley, otherwise known as Robin Hood, prince of thieves. After growing up in a monastery under the watchful eye of Friar Tuck, Gwyn is ready to follow in her father's footsteps, though Robin would much rather see her become a proper lady.
As a wounded King Richard nears death, and Robin and his merry men are captured by the ruthless, cunning and all around bad guy, Sheriff of Nottingham (Malcolm McDowell), it turns out that the only one who can save the day is young Gwyn.
Princess of Thieves airs on ABC, Sunday 3/11/01 at 7:00-9:00 P.M. ET/PT.
Dove Review
In 1938, Errol Flynn and his pals at Warner Brothers made a little film called "The Adventures of Robin Hood." It is not only the best film concerning the legendary freedom fighter, it is one of the best films, period. A few years ago, Kevin Costner attempted to portray the legendary bandit in an updated remake. Although Mr. Costner is a fine actor, Errol Flynn was Robin Hood. He personified the word swashbuckler. Unsurpassed, the '38 version is an impressive spectacle with polished dialogue, exciting swordplay, colorful sets and costumes, and one of the best film scores of all time. The royal entrance into Sherwood Forest where Robin swings from one tree to another proclaiming, "Welcome to Sherwood, my lady" – now that's movies!
But, Phil, you're reviewing the wrong film. Well, I was just trying to be positive. Trying to show you why I love movies. But, okay, if you insist. Here goes.
This dismal rip-off is boring, colorless, cut-rate, somnolent and blah. The spin on this well-seasoned tale is that it is a woman who now saves the day. Alright, ladies, we get it, you're as good as we are. But Keira Knightley, although cute, doesn't look like she could find her way out of the forest, let alone wield a 12th-century sword. No, I'm not being unkind. I just think she has been miscast. Now if she wants to play Gidget, hey, I'll watch. But the princess of thieves – oh, please.
The guys fare no better. I've already used the word blah. But it bears repeating. Even the talented Malcolm McDowell, who's built a career on playing baddies, is lifeless here. (If you are a film student, compare his portrayal of the sheriff with that of Basil Rathbone's).
It's a clean film, with right triumphing over injustice, but don't excuse it as good enough for the kids. Rent them the Warner Brothers version. And, if they don't like Errol Flynn, get new kids.
Info
Industry Rating:
Not Rated
Reviewer:
Phil Boatwright