A Knights Tale
Theatrical Release:
May 11, 2001
DVD Release:
September 25, 2001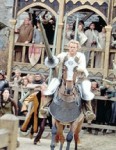 Synopsis
"A Knight's Tale" tells the story of William Thatcher (Heath Ledger), the son of a poor thatcher who gave his son to a knight, so that he could serve under him and have a better life. When the old knight dies right before a tournament, William puts the armor on and fills in. He wins the joust and vows to become a knight even though he is forbidden to do so by law (only a man of noble birth can become a knight.) With the help of struggling writer Geoffrey Chaucer (Paul Bettany), William adopts the identity of Sir Ulrich von Lichenstein and vows to become the best knight in the land. The story finds William facing the ultimate test of medieval gallantry, tournament jousting, and trying to discover if he is the stuff of which legends are made. With the help of Kate the blacksmith (Laura Fraser), William gets a designer suit of armor that leads him to become the best knight in the land, except for the sinister Count Adhemar (Rufus Sewell), William's foe in battle and competition for the fair maiden Jocelyn (Shannyn Sossamon), who he falls hopelessly in love with.
Dove Review
Get ready for an exciting, stirring story, of one man's quest to change his fate in life by becoming what he was destined to be, in an exciting sport that gripped nations and made heroes of men. In the opening scene the sounds of the classic Queen song "We Will Rock You" thunders as the camera drifts down onto a medieval stadium. The people jamming the stadium beat their wooden seats and railings as they chant to the lyrics of the song and from that moment you know this isn't going to be your typical medieval story about knights, honor, fair maidens, and dragons.
This is a very original and interesting cinematic take on knights and its drive is centered in the charismatic performance of Heath Ledger, who carries the film and is easily Hollywood's new leading man. My favorite character was Geoffrey Chaucer or Geoff as he likes to be called. As literature buffs know, the real Geoffrey Chaucer was responsible for writing The Canterbury Tales, which chronicled people of that day. Bettany is a brilliant representative of that figure with his command of the English language and his wit; in these areas he easily surpasses his peers. He is a scene-stealer in the movie along with William's sidekicks, the soft-hearted Roland (Addy) and hot-headed Wat (Tudyk). Sewell plays a great bad guy and manages to make it interesting.
Writer/director Brian Helgeland attempted to make an unusual movie and he did! "A Knight's Tale" is a lot of fun if you don't over-analyze it. It's a unique period piece that's part romance, part road trip, making for an enjoyable summer movie. It has a feel-good ending and you will cheer and laugh a lot.
Aside from some British slang and a couple of shots of a man's naked backside fully exposed (he's a gambler who loses his clothes in a bet) the only other item that may ruin this movie for some people is the music. Having people chant lyrics and dance to modern rock music (throughout the movie) that was created hundreds of years after the events in the film, was a very daring move that may turn people off. Most adults who enjoy period pieces probably won't like it. Although popular music does grip the sports world of today in the form of thundering sports anthems, I'm not sure if back in the 14th Century they had their own sports chants or ballads.
The only other annoyance and out-of-place character was Jocelyn, who was clearly miscast. Sossamon lacked depth of emotion and inner turmoil, and a lot of what she said made me wonder what William ever saw in her. Her performance reminded me of Angelina Jolie and made me want to see a real actress in the role. Ledger provided all the chemistry in the romantic scenes because otherwise, there was very little. The other big problem for me was her costuming and hairstyles. It looked like she was a reject from the 1980s and completely out-of-pace with the story. The writers and the actress really needed to bring this character more depth and this was never accomplished.
Info
Company:
Columbia Tri-Star Pictures