My Horrible Year
Network Premier:
July 8, 2001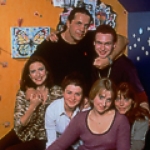 Synopsis
Nik Faulkner (Allison Mack) is dealing with her twin brothers, school, a crush, and braces. She is about to turn 16, and realizes that she spends most of her time taking care of her brothers while her parents work, and that she has no life outside of school and her part time job. She begins to suspect that her father is having an affair with his wife's sister-in-law, who's husband had died a few years earlier. Nik then enlists the help of her two best friends, a girl named Babyface, and a pierced wrestling freak named Mouse, to get her parents closer before they split up (which will happen on her 16th birthday). A bright comedy that deals with the teenage experience without all the stereotypes and much-covered subjects. A little tounge-in-cheeck and a little bit of comedy help drive this original tale from Eric Stoltz in his directorial debut.
Dove Review
Eric Stoltz (a longtime favorite in the indie circuit), does a great job here of making a would-be average run of the mill teen drama/comedy visually entertaining and subjective, and writer McIlvaine does a great job with the script, making it self-aware and comically cynical towards other cheesy entries of the same genre. With good acting, good writing and directing, and a great comedic performance by Petronijevic as Mouse, this is one the family can enjoy, and the parents might not even mind sitting through this one. It covers great issues for families to talk about openly, and it does so without all the language and cheap digs for humor. It also shows respect towards parents. It airs at 8 p.m. Sunday, July 8th.
Info
Company:
Showtime Networks, Inc.
Producer:
Mimi Rogers and Chris Ciaffa