American Outlaws
Theatrical Release:
August 17, 2001
DVD Release:
December 4, 2001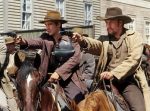 Synopsis
One of the most famous outlaws of all time, the bank, train, and stagecoach robber Jesse James, led his gang, which included his brother Frank, throughout the old West from 1866 to 1881. The life of Jesse James has been portrayed in over 30 films, but Warner Bros. is shifting the story line to have more of a comedic tone, in a Butch-Cassidy-and-the-Sundance-Kid sort of way.
Dove Review
If you are looking for a historical movie about the life and times of Jesse James, keep looking. According to Director Mayfield, "As far as I'm concerned Jesse James is a myth. We put a new spin on an old tradition." In order to enjoy his new spin, you must set aside any knowledge you may have of the real person of Jesse James and his cohorts in the James-Younger gang.
I personally prefer true stories to stories "based on real characters," but I confess that I enjoyed "American Outlaws." It has much to offer in the way of entertainment. All of the characters in this action-packed western are bigger than life. Colin Farrell plays Jesse as more of a Robin Hood. He wildly throws his "profits" into the crowd and pays off mortgages for the downtrodden farmers who are being threatened by the railroad company hoodlums. Gabriel Macht is outstanding as Jesse's circumspect, well-educated outlaw brother Frank. Timothy Dalton is the perfect antagonist with a heart, playing Allan Pinkerton, head of the famed Pinkerton Detective Agency. Scott Caan (son of James Caan) is also very credible as Frank and Jesse's cousin in crime, Cole Younger. Academy-award-winner, Kathy Bates is convincing as Ma James, the family matriarch – strong-willed but with a twinkle in her eye. The weakest character in the cast is Ali Larter, not because she can't act, but she was miscast. I felt that Larter was too sophisticated for the part of Zee Mimms, the scrappy but cuddly love interest of Jesse's.
All in all, I was drawn into the action/adventure/drama/comedy. Even though the facts were blurred, the sets and scenes appeared authentic. I expected to see a bunch of twenty-first century Southern California dudes dressed up as cowboys. But Mayfield kept his actors and their dialogue in sync with the times. Speaking of dialogue, there was not one F-word uttered by the young swashbucklers in spurs. Ma James frequently talked to Jesus – and He talked back to her. Other references made to God and Jesus were delivered in a respectful manner. While there was a lot of shooting and killing (mostly during some civil war scenes), the violence is neither explicit nor gratuitous.