Bubble Boy
Theatrical Release:
August 24, 2001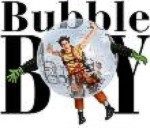 Synopsis
"Bubble Boy" is a coming-of-age comedy following the life of Jimmy Livingston, (Jake Gyllenhaal), a young man born without immunities and raised in a manufactured world provided by his well-intentioned but misguided mother (Swoosie Kurtz). But when Jimmy realizes that he's in love with Chloe (Marley Shelton), the girl next door, he has no choice but to build a mobile bubble suit, and set off across the country to Niagara Falls, to stop Chloe's wedding and confess his love for her. Along the way, he crosses paths with freaks, bikers, rock stars, and a cult, racing against the clock and his parents, who are determined to bring Jimmy back to the safety of his home.
Dove Review
Jake Gyllenhaal gives a nice performance as the gentle, innocent Jimmy. But the film is full of political incorrectness, making sure it insults as many people as possible, from side show "freaks" to people of faith. Few groups go unscathed. But perhaps its greatest offense is that it really isn't very funny. Once Jimmy is on the road, the major humor stems from the bubble wrapped young man being bumped into the air by fast moving vehicles. The rest of the gags are either insensitive, tasteless or in need of a rewrite.
Content Description
Sex:
Girl tries to seduce the bubble boy; dwarf gropes a woman; upon his sexual awakening, the bubble boy does not understand what is happening to him; the scene is played for laughs and it is somewhat embarrassing; many sexual references used as humor.
Language:
Five obscenities, two from a hypocritical Christian; several expletives and objectionable sexual terms; a cult member makes an obscene gesture; a "Christian" woman makes unkind remarks about young women, Jews and others.
Other:
Cynical attacks on Christianity and the deformities of sideshow performers; a Hindu, believing cows are holy, accidentally runs into one, killing it; while he places flowers around the fallen animal, motorists run over it, leaving a ghastly sight; a religious cult, headed by male model Fabio, is used to mock people of religious beliefs; the mother is not just hypocritical in her religious beliefs, but cartoonish; many Christians will consider some of her activities downright sacrilegious; at one point the bubble boy gets trapped in a burning building; although he is rescued, the scene may be unnerving to children, along with the cartoonish but sudden encounters bubble boy has with racing vehicles.
Info
Company:
Touchstone Pictures
Reviewer:
Phil Boatwright