What Girls Learn
Theatrical Release:
October 14, 2001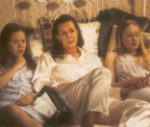 Synopsis
"What Girls Learn" is a coming of age story about two sisters (Alison Pill and Margo Martindale) on the verge of adolescence coping with major changes in their lives. Their lives are turned upside down when their very unconventional mother (Elizabeth Perkins) ups and moves them to a new town, and they are forced to live with her sensitive boyfriend (Scott Bakula). While both the mother, and eventual step-dad care for both of the girls, they are still finding it hard and confusing to grow up normal in their delicate age of change.
The two young girls eventually have to cope with maturity when their mother becomes ill, and they must find out that they need each other, and that people other than their mother can love them just as much. A film about trials, change, maturity, and responsibility.
Dove Review
A wonderful little film! While at times conventional and predictable, this movie pulls together through good writing and convincing acting. Director Rose really knew how to get the performances that she needed from her two young stars, and Elizabeth Perkins really delivers as the charming and off-beat loving mother. While Bakula seems a bit stiff, he still comes across as the lovable husband/step-father who explores what it means to love and to care in the light of his step-daughters. The film also sparks good conversation starters for families with daughters that are at the age of maturity. If faith in God had been developed as one of the family's critical resources, the film would be even better.
Content Description
Sex:
A scene where the mother is in the bathtub with her boyfriend, but nothing is shown and it is not displayed as being sexual, and they do eventually marry.
Language:
A-4; B-1; D-1; teen girls use slang for female body parts, such as "boob," but it is in the context of their conversations about growing up, and is not gratuitous.
Info
Company:
Showtime Networks, Inc.