Off Season
Theatrical Release:
November 19, 2001
DVD Release:
November 19, 2001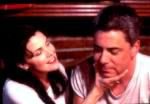 Synopsis
A little boy, Jackson, lost his parents in a car crash and he lives with his aunt. He makes up stories about people that come to the hotel where he and his aunt live. One of the stories he makes up is about one of the guests he says is Santa Claus. The man plays along and the hotel becomes a hotbed of activity. A policeman comes and says that the man pretending to be Santa is a con man and wanted in four states. Everyone loses faith in the pretend Santa, even the boy. But the mystery is far from over.
Dove Review
This is a good Showtime family film, complete with good acting, directing and story line. This is a film the whole family can enjoy.
Orphaned by a recent auto accident, ten-year-old Jackson Mayhew (Rory Culkin) has come to live with his aunt, Patty Winslow (Sherilyn Fenn) at a tacky Florida hotel where sh works as a bartender. Concerned that Jackson's habit of making up dark outrageous tales about everyone around him is a sign of unexpressed grief, Patty dares her nephew to make up a "nice story." Jackson responds with the idea that elderly, white-haired hotel guest Sam Clausner (Hume Cronyn) is actually Santa Claus vacationing incognito during his "off season."
Jackson's notion becomes a fast-spreading rumor in the hotel, much to Sam Clausner's dismay. Sam arranges with Patty to have Jackson talk with a kindly but inept child psychologist, Dr. Zimmer (Bruce Davison), who proves to be no match for the brooding, intelligent boy. Sam therefore quietly takes Jackson aside to explain that he is indeed Santa on vacation, which makes Jackson's rumor extremely inconvenient. Jackson agrees to help Sam conspire to conceal his "true identity." However, it's too late. Mel's greedy hype brings the story to the attention of TV stations.
Richard Frangello (Adam Arkin), a dentist from Albuquerque, arrives along with the deluge of guests that soon swamp the hotel wanting to meet Santa. It turns out that no one is quite what they seem – yet everyone gets what they deserve.
Info
Company:
Showtime Networks, Inc.