Laffapalooza
Theatrical Release:
April 25, 2003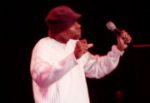 Synopsis
Laffapalooza, America's longest-running annula urban comedy festival, commenced five years ago to serve as a launching pad for up-and-coming comedic talents. Mike Epps ("Friday After Next") and Nick Cannon ("Drumline") are among the many whose careers have been ignited on its stage. The festival has been successful in spotlighting and exposing comedians from across the country to industry leaders, as well as giving veterans like David Alan Grier ("The Bonnie Hunt Show") and Sherri Shepherd ("Less Than Perfect") an opportunity to return to their stand-up roots. In order of appearance: -Kenny Howell, -David Alan Grier, -Thea Vidale, -Sheryl Underwood, -Darrel Heath, -Rodney Perry, -Lavell Crawford, -Speedy, -Alex Thomas.
Dove Review
It was hard to enjoy this movie considering that ever other word out of the comedians mouth was profane. The comedians were funny, and talked about relevant issues, however the language and other references made it so Laffapalooza couldn't be enjoyed nor approved.
Info
Company:
Showtime Networks, Inc.