Out of the Ashes
Network Premier:
April 13, 2003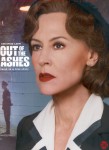 Synopsis
It is 1946. Some of the last remaining World War II refugees are making their way to Manhattan aboard ships bound for America and freedom. For Dr. Gisella Perl (Christine Lahti), once a renowned gynecologist from Sighet, Hungary, the flight to freedom is haunted by an unforgettable past that has consumed her and leaves her struggling with her identity. As Gisella arrives in New York, she is greeted by a distant niece (Zoie Palmer), and then welcomed by a surrogate family who help her reclaim the ashes of her shattered life. She has but one goal: to resume practicing medicine.
Dove Review
The Holocaust was terror beyond words, but when you hear the horrifying tale straight from the lips of someone who was there, your heart breaks. "Out of the Ashes" is the true story of Dr. Gisella Perl, who assisted a Nazi doctor in a concentration camp to save her life. After the war was over, Dr. Perl came to the United States looking for citizenship. She had to pass through a review board in order to be considered for citizenship, and this board made her tell her horrible story. "Out of the Ashes" was a terrifying, yet touching story that made me feel more emotion than many other movies ever have. It takes you through her struggles with her environment, the people around her, and most of all, herself. This is a magnificent story that everyone should see.
Info
Company:
Showtime Networks, Inc.
Starring:
Christine Lahti
,
Bruce Davison
,
Jonathan Cake
,
Jolyon Baker
,
Jessica Beitchman
,
Oliver Cotton
,
Michelle Fine
,
Zoie Palmer
,
Maria Ricossa
,
Ingrid Veninger
,
Emma Wellbelove