Just Like Dad
Theatrical Release:
October 1, 2003
DVD Release:
October 1, 2003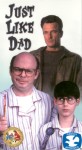 Synopsis
"I just wanted to be more popular," explains Charlie, an awkward and ungainly 12-year-old. Charlie rented Joe, a handsome bodybuilder, to be the "perfect dad" to replace his not-so-athletic dad for the father/son competition at the school picnic. But when his real dad discovers he has been replaced, Charlie must come to terms with the terrible pain he has caused him. He learns that although Dad is not big and strong, he has his own special qualities that just might save the day when Joe's past threatens them all.
Dove Review
This is a neat story about a very loving father (Wallace Shawn) and son Charlie (Ben Diskin) who are on their own since mom walked out on them. These two have a wonderful relationship, yet both are faced with problems from bullies. Dad's approach is to give in to the bullies to save being hurt, but Charlie has other ideas. In addition, Charlie wants to be more popular and included in sports. Since they are new in town, he decides to hire a bodybuilder to be his dad for a father/son competition, believing kids will accept him if they win – thus enters Joe (Nick Cassavetes). Joe is a very nice guy who seems to have it all together, but his past eventually catches up with him and affects them all. Charlie gets to weigh very differing advice from both men.
It is nice to see Wallace Shawn in a role like this; he does a nice job in a more serious role. Although his character is quirky, he is intelligent, and that's refreshing. He is a very involved and devoted father, seeking only the best for his son. As a role model, any guy could learn a thing or two from him. Ben does a fair job acting, and his character is believable. He doesn't like him and his father being taken advantage of, and he tries to improve his situation. When his plan works so well, he takes it too far and doesn't think through the consequences of how it might hurt his father if and when he finds out. Joe's issues include a past with the mob, and having walked out on his own family ten years ago. Although he has now gone completely legitimate, he never dealt with the sadness of missing his own son. Nick Cassavetes does a wonderful job with his character; he was perfectly cast for this part.
Feature Films for Families also includes a brief discussion guide for parents (on the carton back). This includes questions such as, "How can you solve problems by using your mind instead of your fists?"
Info
Company:
Feature Films For Families
Industry Rating:
Not Rated