In Gods Image: Jesus the Name (CD)
Theatrical Release:
November 4, 2004
DVD Release:
November 4, 2004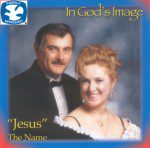 Synopsis
Lawrence and Kiane Marie call themselves In God's Image, because we are to reflect God's image, and we are being changed into the image of Jesus Christ our Lord, from glory to glory. They hope as people listen to their songs, they will find hope, healing and come to know that the answer to all of life's questions is Jesus.
Dove Review
When you listen to this delightful spiritual music CD, you will experience the joy of what God 's grace can do for you. I found that as I was listening to the music a peaceful calm came over me from my stressful day and I wanted to hum and sing along. I hope you enjoy this CD as much as I did.