xXx: State of the Union
Theatrical Release:
April 29, 2005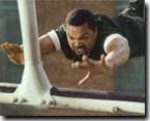 Synopsis
Agent Augustus Gibbons (Samuel L. Jackson) of the National Security Agency has orders to find out who's behind a plot to destroy the president (Peter Strauss), who is preparing his State of the Union address. Gibbons can no longer call on Agent XXX who is now dead, so he recruits a new XXX by aiding Darius Stone (Ice Cube) in escaping from a high-security prison cell. A former Navy Seal, Darius in his new role as superhero might be described as a blue-collar James Bond. Not only does he have access to the most sophisticated spy gadgets and powerful warfare weapons, his old girl friend Lola (Nona Gaye) furnishes him with vehicles from her chop shop. Despite a weak plot, this action-packed guy flick will no doubt do well at the box office with the strength of its fast cars, chases, crashes and explosions. Be prepared for more XXX sequels.
Dove Review
I was wondering how they came up with the name XXX. After viewing this sequel, I determined that it quite possibly stands for X-tra X-treme X-plosions. The last time I saw that much stuff blow up I was with my buddies on July 4th. This movie was a hundred minutes of explosions, gunfire, and sexually objectified women. I do have to admit, however, that Ice Cube did a much better job than Vin Diesel (who starred in the first film). Xzibit also appeared in this film, but it was almost impossible to take his character seriously because he was customizing vehicles—the same thing he does on his TV show. This movie could show up in the next Toyota commercial as a cure for adrenalitis. However, it won't cure anyone's need for a good movie.
It didn't take long to determine whether or not this movie would be Dove approved. The first scene shows about 20 people being shot or stabbed along with some offensive language. Beside the language and violence there are plenty of scenes showing women in revealing clothes. Some of the songs in the soundtrack also contain explicit material such as a "rap" where a man describes giving people two middle fingers.
Content Description
Violence:
Countless explosions, including people in explosions. Numerous people shot, punched, kicked and stabbed.
Sex:
Man makes statement to woman of the "damage they did in the back seat" of a car. Man tugs at woman's bra strap seductively. Scene at a nightclub with women dancing (cleavage, but no nudity).
Violence:
Countless explosions, including people in explosions. Numerous people shot, punched, kicked and stabbed.
Info
Company:
Columbia Tri-Star Pictures
Reviewer:
Bradley B. Klinge