Objects of Wrath
Theatrical Release:
June 8, 2004
DVD Release:
June 8, 2004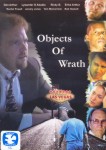 Synopsis
Steve (Dan Arthur) has always felt there was more to life than his dead-end job and boring life. But he doesn't know how to go about changing it. When past dreams are remembered Steve begins to pursue them. But when his addiction to TV begins to grow stronger his life begins to fall apart. He starts to become desperate for a change and prays to God for help. God answers his prayer and Steve begins a new life that is both difficult and unfamiliar. Join Steve as he journeys down a new road and not only sees a change in his life but also helps others along the path.
Dove Review
"Objects of Wrath" is an evangelism film which does its job very well. It deals with a young man named Steve, who longs to be a pastor, but who has trouble overcoming his addiction to watching television. This addiction leads to the loss of his job and he battles to overcome it to become the man he knows he can be. As Steve begins to gain ground, his path leads him to others who fight addictions–a man who drinks and is in danger of losing his wife, a woman who has a gambling problem, a homeless man, and a man who becomes Steve's landlord for a time and who doesn't want anything to do with God. There is also the story of a young man who is trying to get out of a gang. The acting is surprisingly good for an independent film, particularly by Dan Arthur, who plays Steve.
This film was written and directed by Jeff Peterson who manages to tell a compelling story. The film is family friendly, with a caution for parents to note that there are several drinking scenes in a bar which, by the way, is temporarily converted to a church on Sunday mornings!
Info
Company:
Garage Dweller Studios
Reviewer:
Edwin L. Carpenter