The Producers (2005)
Theatrical Release:
December 25, 2005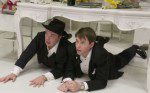 Synopsis
New York, 1959. Max Bialystock was once the king of Broadway, but now all his shows close on opening night. Things turn around when he's visited by the neurotic accountant Leo Bloom, who proposes a scheme tailor-made for producers who can only make flops: raise far more money than you need, then make sure the show is despised. No one will be interested in it, so you can pocket the surplus. To this end, they produce a musical called Springtime for Hitler written by escaped Nazi Franz Liebken. Then they get the insanely flamboyant Roger De Bris to direct. Finally, they hire as a lead actress the loopy Swedish bombshell Ulla (whose last name has over 15 syllables). As opening night draws near, what can go wrong? Well, there's no accounting for taste…
Dove Review
"The Producers" is a racy film with a capital "R." There are too many sexual references to remember them all. During the screening I attended I saw a mother walking out with her teenaged daughter. This is not a film for families. There is also a "flipping off" scene in which the characters use their middle fingers. There are some humorous moments in the film and the acting is very good by Nathan Lane, Matthew Broderick, Will Ferrell and Uma Thurman. But with the number of scenes with cleavage, and Lane's character speaking of using sex to milk old ladies of their fortunes, and the many sexual references to certain parts of the body, this film cannot be Dove approved.
Info
Company:
Universal Pictures
Writer:
Mel Brooks and Thomas Meehan
Producer:
Mel Brooks and Jonathan Sanger
Reviewer:
Edwin L. Carpenter