Cheaper by the Dozen 2
Theatrical Release:
December 21, 2005
DVD Release:
May 23, 2006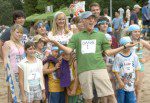 Synopsis
The Bakers are back…big time! America's favorite movie family returns in "Cheaper by the Dozen 2," only this time, they're going toe-to-toe against another clan in the ultimate inter-family battle. The entire "Cheaper by the Dozen" cast reunites, including Steve Martin, Bonnie Hunt, Hilary Duff, Tom Welling and Piper Perabo, and they're joined by a new family, headed by Eugene Levy. Bigger scale, more laughs, ramped-up action – and lots of heart – are the hallmarks of the Bakers' new adventure.
In "Cheaper by the Dozen 2," Tom Baker (Steve Martin) and wife Kate (Bonnie Hunt), hoping to bring their family together for a memorable summer vacation, take their twelve offspring to rustic Lake Winnetka, Wisconsin – their longtime family vacation home. But their retreat soon turns cutthroat when they enter into a competition with the over-achieving members of a large family headed by Tom's longtime rival, Jimmy Murtaugh (Eugene Levy).
Dove Review
This sequel is family friendly and delves into the relationships of the Baker family. The film opens with one daughter ready to move to New York and another daughter about to move to Houston with her new husband. Tom Baker talks his wife into sharing a family vacation before school starts and before the two daughters move away. At the lake retreat vacation spot they come across Tom's old rival, Jimmy Murtaugh, played as an egotistical chump by actor Eugene Levy. The men's competitive natures lead to a showdown at an annual competition in which the winning family lands a trophy for such diverse activities as egg tossing and canoe racing.
The film has mild and some crude language and there is a scene in which one of the Baker's daughters is caught shoplifting make-up, but the parents talk with her about it. There are a few scenes which show the women wearing little, but these scenes are few and the film concentrates more on the family and Tom and Jimmy's rivalry. There are some very funny moments in this film. Also, with great actors such as Steve Martin, Bonnie Hunt and Tom Welling, how could you go wrong?
Info
Company:
20th Century Fox Home Ent.
Writer:
Sam Harper and Craig Titley
Producer:
Shawn Levy and Ben Myron
Reviewer:
Edwin L. Carpenter