The Shaggy Dog
Theatrical Release:
March 10, 2006
DVD Release:
August 1, 2006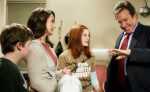 Synopsis
Tim Allen transforms from family dad to family dog and back again in this update of the Disney comedy. It all begins when workaholic Deputy D.A. Dave Douglas (Allen) takes on a case involving an animal laboratory — one that will take him away yet again from his wife (Kristin Davis) and kids (Zena Grey and Spencer Breslin), who already yearn for his all-too-distracted attention. But when Dave is accidentally infected with a top-secret, genetic-mutation serum, everything he thought he knew about himself and his family changes. Yet with his newly perked-up ears, and his front-row seat on the household carpet, Dave is able to gain a whole new perspective into his family's secrets and dreams. Now, he wants nothing more than to stop fetching and return to fathering — only first he'll have to stop the evil forces behind the serum.
Dove Review
I must admit I had lowered my expectations for "The Shaggy Dog," seeing it was a remake and most of those do not turn out well. Also, the premise of a man turning into a dog seemed rather silly; and maybe it is, but when the man is Tim Allen, it works! I was pleasantly surprised as this was a genuinely funny movie, and judging by the audience's response they felt the same way. Tim Allen really makes the viewer think about what it would be like to be in dog's head, or any animal's head for that matter. Allen nailed it in every scene, from fetching a stick (despite his initial reluctance) to lowering his head and looking up at the judge with sad eyes while he was in a "human" form. His dream of being on a beach with fire hydrants everywhere was humorous as well.
It should be noted that another dog is seen meditating and praying in a Buddhist temple in the beginning of the film, but this fantasy film does not go anywhere with that – it concentrates on Allen's character more than anything. There is also a scene in which he is a dog again and he sees a boy in his daughter's bedroom, but he enters the room to make sure nothing transpires which shouldn't and nothing does. He does steal his neighbor's roses to spell out "I love you" to his wife while he is in dog form, but this is the worst it gets as this is a funny one for the family. There is not one profanity in the entire film. That was a nice change of pace. I recommend it, with the above warnings, for the entire family and I am happy to give it four Doves!
Info
Company:
Buena Vista Home Video
Writer:
Cormac Wibberley and Marianne Wibberley
Reviewer:
Edwin L. Carpenter