Slither
Theatrical Release:
March 31, 2006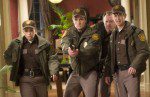 Synopsis
The sleepy town of Wheelsy could be any small town in America-somewhat quaint and gentle, peopled with friendly folks who mind their own business. But just beneath the surface charm, something unnamed and evil has arrived…and is growing. No one seems to notice as telephone poles become clogged with missing pet flyers, or when one of the town's richest citizens, Grant Grant (Michael Rooker) begins to act strangely. But when farmers' livestock turn up horribly mutilated and a young woman goes missing, Sheriff Bill Pardy (Nathan Fillion) and his team, aided by Grant's wife Starla (Elizabeth Banks), uncover the dark force laying siege to their town…and come face-to-face with an older-than-time organism intent on absorbing and devouring all life on earth.
Slither is the feature film directing debut of screenwriter James Gunn (the recent hit re-envisioning of Dawn of the Dead) and stars Nathan Fillion, Elizabeth Banks, Gregg Henry and Michael Rooker. It is also written by Gunn. Slither, a Universal Pictures and Gold Circle Films presentation of a Strike Entertainment Production-is produced by Paul Brooks and Eric Newman.
Dove Review
In this campy take on the aliens/slasher film genre, we are exposed to every degree of gore and language you can imagine. I was almost looking forward to watching a comedic variation of some of the gore fests I have had the unfortunate privilege of reviewing lately. Well, language and blood made that hope disappear shortly after the beginning of the movie. In fact, the audience is treated to one of the most tasteless films ever made including the credits which are accompanied by a song whose chorus goes as follows: "Baby I love you just leave me the F#@% alone."
Not family – Not approved. I think I'll just "Slither" out of this movie and go see "Ice Age" now.
Info
Company:
Universal Pictures
Writer:
James Gunn James Gunn
Director:
James Gunn James Gunn