Just My Luck (2006)
Theatrical Release:
May 12, 2006
DVD Release:
August 22, 2006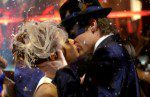 Synopsis
"Just My Luck," from the director of "How to Lose a Guy in 10 Days," is a comedy starring Lindsay Lohan and Chris Pine. Ashley (Lohan) is the luckiest girl in New York City, where she has a promising career and a life full of glamour and romance. Jake (Pine) is the unluckiest guy in town, tormented by constant mishaps and missed opportunities. Everything changes for Ashley and Jake when they meet at a swank masquerade party, share a kiss, and miraculously swap their luck. Now Ashley's ultra-fabulous life is going completely sour while Jake is finally living large.
Dove Review
"Just My Luck" was an entertaining film about being lucky and being unlucky. Ashley is the happy-go-lucky woman with all things going her way. Jake is the guy who has a positive attitude but is one of the most unlucky people you would ever want to meet. Can luck be transferred from one person to another? Can a lucky person become unlucky just by kissing one of the most unlucky people on the planet? Well whatever the answers to those questions are, it is certainly when all of the fun and excitement begin in this film.
"Just My Luck" is a borderline family film. It has some objectionable content in every category that Dove looks at, but it does not exceed the criteria in any one category. This is a film for people over the age of twelve, but also families should be strongly cautioned and should read the content descriptions below to ensure it doesn't fall outside your family's standards and values before deciding to attend. The film would have been much more entertaining if all of the objectionable material had just been left out. I think it also would do much better at the box office if it was more family friendly, although Fox may get lucky. When will they learn that you don't need luck to have a blockbuster film when you make a good family-friendly one?
Info
Company:
20th Century Fox Home Ent.
Writer:
I. Marlene King and Amy Harris