Monster House
Theatrical Release:
July 21, 2006
DVD Release:
October 24, 2006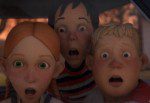 Synopsis
Twelve-year-old DJ Walters, who is caught in that awkward moment between childhood and the onset of puberty, has too much time on his hands and has taken it into his head that there's something weird about old man Nebbercracker's house across the street. Things keep disappearing into the dilapidated structure: basketballs, tricycles, toys and pets. Come to think of it, whatever happened to Mrs. Nebbercracker?
It's the day before Halloween and DJ and his candy-friendly pal Chowder have a run-in with Mr. Nebbercracker after their basketball wanders onto his lawn and is mysteriously swept into the house. When the house tries to swallow their new friend Jenny and no one believes the frightened trio's claims that the house is up to no good, it's up to them to investigate.
They turn for advice to the only person on the planet who might even remotely understand what's going on, the wise one they call Skull, a 20-something slacker pizza chef and master of the arcade machine who once played a video game for four days straight on one single quarter, a gallon of chocolate milk and an adult diaper. "I have heard tell of man-made structures becoming possessed by a human soul," Skull tells them.
You mean the house is alive? Yikes!
Dove Review
"Monster House" is a roller coaster ride of a movie with a possessed house starring as the main character. There are many scary scenes in the film as our heroes try to stop the house from eating its victims (later we learn everyone is OK). I was surprised to see so many young children in the theater and equally as astounded that they were extremely quiet (no screams or tears). However, Dove does not recommend that young children be brought to this show as the content and humor is geared toward older pre-teens.
There is some good moral content such as friends sticking together to help one another, and not judging people based on assumptions. All in all, this was a creepy and somewhat funny film.
Info
Company:
Sony Pictures Home Entertainment
Writer:
Dan Harmon and Rob Schrab