Crossover
Theatrical Release:
September 1, 2006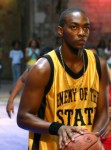 Synopsis
A naturally talented basketball player, Noah Cruise is determined to become a doctor using his basketball scholarship to UCLA pre-med, rather than succumb to the lure of former sports agent Vaughn and go for the NBA.
His best friend, who took the fall for him and did time for an assault charge, Tech, also an outstanding basketball player, has less lofty ambitions: he wants to get his GED and win an underground street ball game against his arrogant rival, Jewelz. Their lives change drastically when they fall in love with two local girls and take a fateful trip to L.A. together.
Dove Review
This film had a chance to be Dove approved until about the last fifteen minutes and then some very strong language doomed it. It is not a great film anyways as far as family is concerned, due to the sexual innuendos and some mild language leading up to the strong stuff. Two close friends, Tech and Cruise, play underground "street basketball." A powerful man named Vaughn is behind paying off the players, two grand a player for the winning team, and a grand per player for the losing team. He makes his money off gambling and considers himself an agent of sorts in guiding young talent toward the NBA.
Cruise, a very talented player, would rather go to medical school in L.A. and become a doctor. His best buddy Tech wants to be a basketball player but has run-ins with Jewelz, the prima donna of the winning team. Eventually a problem with his girlfriend leads Cruise to make some fateful decisions which affect both himself and Tech. This story had some good things in it-such as hitting home the need to make a decision based on talent and desire, not on lucrative possiblities alone. But the strong sexual innuendos and language prevent this one from joining Dove's family approved films.
Info
Company:
Sony Pictures Home Entertainment
Reviewer:
Edwin L. Carpenter