Bananas Featuring Jeff Allen
Theatrical Release:
October 1, 2006
DVD Release:
October 1, 2006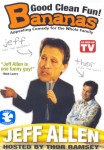 Synopsis
Funny is forever redefined in this unforgettable episode of the hit TV show "Bananas." Laugh-out-loud as Jeff jokes about everything from bike helmets to the weather, and oh yeah, the secrets to a "happy, happy life." This installment of "Bananas" also takes you from the stage to include a reality bit of "Jeff on the couch", and to the interview set where you learn what makes Jeff tick. (Or was it that you can set your watch to Jeff's timing?) Well, you will just have to watch!
Jeff Allen has been entertaining audiences for years. His successful career has resulted in several TV appearances including credits on VH1's "Standup Spotlight" and Comedy Central's "Premium Blend". Jeff's comedic abilities have led to working with many celebrities, most notably Jerry Seinfeld. In addition, he has twice been the featured performer at the National Prayer Breakfast in Washington D.C. Jeff Allen is a brilliant comedian that really sets the standard for clean comedy.
Info
Company:
Guardian Studios