The Fountain
Theatrical Release:
November 22, 2006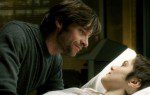 Synopsis
The Fountain is an odyssey about one man's eternal struggle to save the woman he loves. His epic journey begins in 16th-century Spain, where conquistador Tomas (Hugh Jackman) commences his search for the Fountain of Youth, the legendary entity believed to grant immortality. As modern-day scientist Tommy Creo, he desperately struggles to find a cure for the cancer that is killing his beloved wife, Isabel (Rachel Weisz). Traveling through deep space as a 26th-century astronaut, Tom begins to grasp the mysteries that have consumed him for a millennium. The three stories converge into one truth, as the Thomas of all periods-warrior, scientist, and explorer-comes to terms with life, love, death and rebirth.
Dove Review
What do you call a movie that goes everywhere and nowhere at the same time? You call it "The Fountain." I must say, I am a science fiction fan but this movie lost me from the very beginning. Interestingly enough, you would think you would get it since every scene is shown 3-5 times due to director Darren Aronofsky's use of the modern flash back, flash forward, flash back again sequencing, but I still just don't get it.
Oh well, with language and violence over the top by our standards, we cannot award it our seal anyway so I guess it just doesn't matter.