The Astronaut Farmer
Theatrical Release:
February 23, 2007
DVD Release:
July 10, 2007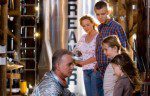 Synopsis
From the time he was a child, Charles Farmer (Billy Bob Thornton) had only one goal: to be an astronaut. Earning his degree in aerospace engineering and joining the Air Force as a pilot, Farmer was a natural for NASA's astronaut training program and was well on his way when a family situation forced him to drop out and return home—effectively ending his career.
But Farmer was not a man to let anything stand in the way of a dream. He spent the next decade and every cent he had building his own rocket in a barn on his ranch in Story, Texas, working toward the day when he could triumphantly launch it into space. By himself.
Dove Review
Virginia Madsen is outstanding in this film in her role as Audie Farmer, the supportive wife and mother who loves with an unconditional love. When her husband Charlie hits a rough spot and displays some light violent behavior, she takes her kids to church and tells them they need to forgive him. This film has some great themes in it including pursuing one's dream, yet not recklessly but with preparation. The family not only eats together, but as his father-in-law points out to Charlie, they "dream together."
Unfortunately, the strong language throughout this film by almost every character except the mother and children prevents Dove from approving this film for family viewing.
Info
Writer:
Mark Polish and Michael Polish
Reviewer:
Edwin L. Carpenter