TMNT
Theatrical Release:
March 23, 2007
DVD Release:
August 7, 2007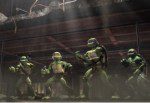 Synopsis
After the defeat of their old arch nemesis, The Shredder, the Turtles have grown apart as a family. Struggling to keep them together, their rat sensei, Master Splinter, becomes worried when strange things begin to brew in New York City. Tech-industrialist Max Winters is amassing an army of ancient monsters to apparently take over the world. And only one super-ninja fighting team can stop them—those heroes in a half shell—Leonardo, Michelangelo, Donatello and Raphael! With the help of old allies April O'Neil and Casey Jones, the Turtles are in for the fight of their lives as they once again must face the mysterious Foot Clan, who have put their own ninja skills behind Winters' endeavors.
Dove Review
The CGI is awesome in this film. The Turtles never looked better. There is a strong message of brotherhood in this movie, with the sensei telling one of the Turtles that when a brother is weak, he must be strong for him. The virtue of leadership is commended in the movie. If you grew up with the Turtles, you will love this film.
The strong values in the film are great and many kids will enjoy the almost non-stop martial arts. We approve this film for ages twelve and above. Our content area below lists minor issues. For "Turtles" fans, this is one to savor!
Info
Writer:
Kevin Eastman and Peter Laird and Kevin Munroe
Reviewer:
Edwin L. Carpenter