The Invisible
Theatrical Release:
April 27, 2007
DVD Release:
October 16, 2007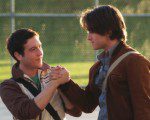 Synopsis
From the producers of "The Sixth Sense" and the co-writer of "Batman Begins," "The Invisible" is a supernatural thriller about a writer who finds himself trapped between the world of the living and the dead-completely invisible to the living. Nick (Justin Chatwin) has a bright future until he is brutally attacked and left for dead. Now in limbo, his only chance to live again is to figure out the mystery of what happened to him and why, before his time runs out. But how do you solve a murder, when the victim is you?
Dove Review
There were parts of this movie that I really, really liked. The main character, Nick Powell, is a likable young writer in high school who wants to move to London to study his craft. His father passed away some years previously and Nick's overbearing mother is set against his moving and has ideas of her own for his future. It should be noted that Nick isn't perfect as he does sell essay papers to other high school students. When Nick is falsely accused for turning a girl into the police for a robbery, she and her friends take their uncalled for revenge out on him, leaving him for dead. Nick's spirit leaves his body and he learns some interesting things about the people he left behind, including his mother. The story has a fine cast, including Justin Chatwin as Nick and Marcia Gay Harden as his mother, Diane Powell, as well as Margarita Levieva as Annie, a young rebel who undergoes a lot of change during the course of the film.
The story does include the idea of a spirit hovering around the earth, instead of going to a determined place, but the fantasy plot does give a reason behind his spirit remaining which is kind of an interesting twist in the story. Unfortunately, strong language along with some violence prevent us from awarding it our Dove Seal.
Info
Company:
Hollywood Pictures
Writer:
Mick Davis and Christine Roum and Mats Wahl
Reviewer:
Edwin L. Carpenter