Hairspray
Theatrical Release:
July 20, 2007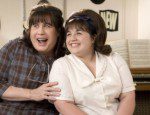 Synopsis
Tracy Turnblad, a big girl with big hair and an even bigger heart, has only one passion-dancing. Her dream is to appear on "The Corny Collins Show," Baltimore's hippest dance party on TV. Tracy (Nikki Blonsky) seems a natural fit for the show except for one not-so-little problem-she doesn't fit in. Her plus-sized figure has always set her apart from the cool crowd, which she is reminded of by her loving but overly protective plus-sized mother, Edna (John Travolta). That doesn't stop Tracy because if there is one thing that this girl knows, it's that she was born to dance. As her father Wilbur (Christopher Walken) tells her, "Go for it! You've got to think big to be big."
Dove Review
"Hairspray" has two clear messages. One is that integration is right and segregation is wrong. This film, based in 1961 Baltimore, does a pretty good job in showcasing a much-needed racial acceptance as several white students embrace black students, called "negroes"in the movie. They are upset that on "The Corny Collins Show", an American Bandstand type of show, that the blacks can only appear on "Negro Night." They work hard to chip away at this stone of racism. The movie is a bit unrealistic in sanitizing the situations, and toning down the racism, but they do show the steps forward the young people make. John Travolta is hilarious in his role as the female Edna Turnblad, mother to Tracy Turnblad (played by a talented newcomer, Nikki Blonsky). Queen Latifah also turns in a strong performance, playing "Motormouth Maybelle". The film does a nice job of recapturing the feel and look of 1961.
However, the second clear message is that sex is glorified in this film. There are tons of innuendos, and in one line in a song the star of a show says she got to where she is by pleasing a judge, except I just cleaned up what she said considerably. The sex category hits a three rating in our content chart below, and this prevents us from approving this movie for family viewing. The film focuses on sexual pleasure without showing the consequences, except in one case when a dancer has to "leave the show for nine months." Dove doesn't believe in promoting this theme of unrestricted pleasure without showing some of the consequences. Due to the suggestive dancing and strong sexual innuendo, Dove cannot award our seal to this movie as a family film.
Content Description
Sex:
Suggestive dancing in several scenes; strong sexual innuendo; close-ups of particular parts of the anatomy; teens stuff bras and crotch.
Info
Writer:
Leslie Dixon and John Waters and Mark O'Donnell
Reviewer:
Edwin L. Carpenter