The Nanny Diaries
Theatrical Release:
August 24, 2007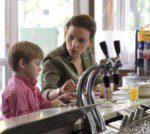 Synopsis
"The Nanny Diaries" tells the story of the emotional and often humorous journey of Annie Braddock (Johansson), a young woman from a working-class neighborhood in New Jersey, struggling to understand her place in the world. Fresh out of college, she gets tremendous pressure from her nurse mother to find a respectable position in the business world although Annie would prefer to trade in her blackberry for an anthropologist's field diary. Through a serendipitous meeting, Annie ends up in the elite and ritualistic culture of Manhattan's Upper East Side — as remote from Annie's suburban New Jersey upbringing as life in an Amazon tribal village. Choosing to duck out of real life, Annie accepts the position as a nanny for a wealthy family, referred to as simply "the X's." She quickly learns that life is not very rosy on the other side of the tax bracket, as she must cater to the every whim of Mrs. X (Linney) and her precocious son Grayer, while attempting to avoid the formidable Mr. X (Giamatti). Life becomes even more complicated when Annie falls for a gorgeous Park Avenue Hottie (Evans), and she's forced to explore her identity as never before.
Dove Review
Not to wax poetic, but this movie has its pluses and minuses, it's good and it's bad, it's yin and it's yang. It doesn't offer anything new as far as nanny and child relations go, but the ending is rather nice. Annie the Nanny (Scarlet Johansson) is a long suffering person with an identity crisis. She doesn't desire great wealth and soon learns, by watching her employer, that money alone is not a remedy for happiness. She finds fulfillment as a nanny but her employer also frustrates her to no end. She speaks up for herself twice during the movie, and she expertly picks both times. Johansson gives a good performance but some of the dialog falls flat. The movie does have some genuine funny moments and lines but, as far as this being a family-friendly picture, we were disappointed to hear a lot of strong language in the film. In addition, an unmarried couple spend the night together. For these reasons, Dove cannot award our Dove Seal to the picture.
Content Description
Violence:
A few of the kids kick the nannies; a kid throws toys at his mother; a husband is verbally abusive to his wife.
Sex:
An unmarried couple spend the night together; a married man makes a move on a single woman; kissing.
Violence:
A few of the kids kick the nannies; a kid throws toys at his mother; a husband is verbally abusive to his wife.
Nudity:
A character is bent over and her panties are seen; cleavage; a small nude statue of a woman is seen.
Info
Company:
The Weinstein Company LLC
Writer:
Shari Springer Berman and Robert Pulcini
Director:
Shari Springer Berman and Robert Pulcini
Reviewer:
Edwin L. Carpenter