3:10 to Yuma
Theatrical Release:
September 7, 2007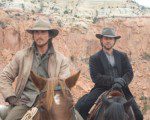 Synopsis
In Arizona in the late 1800's, infamous outlaw Ben Wade (Russell Crowe) and his vicious gang of thieves and murderers have plagued the Southern Railroad. When Wade is captured, Civil War veteran Dan Evans (Christian Bale), struggling to survive on his drought-plagued ranch, volunteers to deliver him alive to the "3:10 to Yuma", a train that will take the killer to trial. On the trail, Evans and Wade, each from very different worlds, begin to earn each other's respect. But with Wade's outfit on their trail – and dangers at every turn – the mission soon becomes a violent, impossible journey toward each man's destiny.
The movie is a remake of the 1957 Western toplining Glenn Ford.
Dove Review
It seems that Russell Crowe and Christian Bale have a good on-screen chemistry. Although they don't play friends in the film, they learn to respect each other as Dan Evans (Bale) intends to make certain the waiting-to-be-hanged Ben Wade (Crowe) is on the 3:10 train to Yuma to face his judgment. Wade is that particular "type" who is not all bad. He actually has a code of morals of some sorts. He does, however, kill people when he deems it necessary.
The story is fast-paced and yet slows down long enough so as to concentrate a bit on character development. Bale and Crowe are both "on" in their respective roles. Bale's role is similar to Gary Cooper's stint as the sheriff in "High Noon". He intends to see that justice prevails, or die trying in the attempt. One real complaint I have about this film is that it has a couple of utterances of the F word. This just wasn't real likely to have been uttered by cowboys in the old west. The strong language, along with the graphic violence in some shoot-'em-up scenes, prevent us from awarding our Dove Seal to this film as a family-friendly movie. As does a character sleeping with a saloon girl.
Info
Writer:
Halsted Welles and Michael Brandt and Derek Haas
Reviewer:
Edwin L. Carpenter